One of the things that I have been thinking about for a very long time is the idea of those who oppose PBL.  Namely those who prescribe to behaviorist and cognitive scientist theories of learning, which I know a great deal about because of my doctoral work.  So many teachers, parents and others have asked me about this over the past 25 years that you'd think I would have an answer.  I know I have thoughts but I do want to do more research in this area.
I do not pay lip-service to the ideas of cognitive load theory for sure and definitely respect those who follow these ideas.  I do think there is a place for thinking about this theory in PBL, but not an argument for why NOT to do it.  At its heart though, I believe the learning outcomes that are important in the different types of theory (CLT vs. constructivist learning for example) is what ends up differentiating them and also the way the knowledge is constructed.  I do believe in the importance of reducing the Cognitive Load for students so that their long-term memory can be triggered and practiced.
So I do believe there is a place for this in PBL – it just hasn't been discussed a great deal.  There is always this us vs. them notion that one is right and the other is wrong – it comes from very strong belief systems and I totally understand where they are coming from.  However, if PBL is done well in a scaffolded, structured way, I believe that you can both reduce cognitive load and also ask students to think creatively.
Here is an image I saw from an article in the Guardian recently entitled Teachers: Your Guide to Learning Strategies that Really Work by Carl Hendrick. This graphic is describing the six ways to make your classroom best-ready for learning.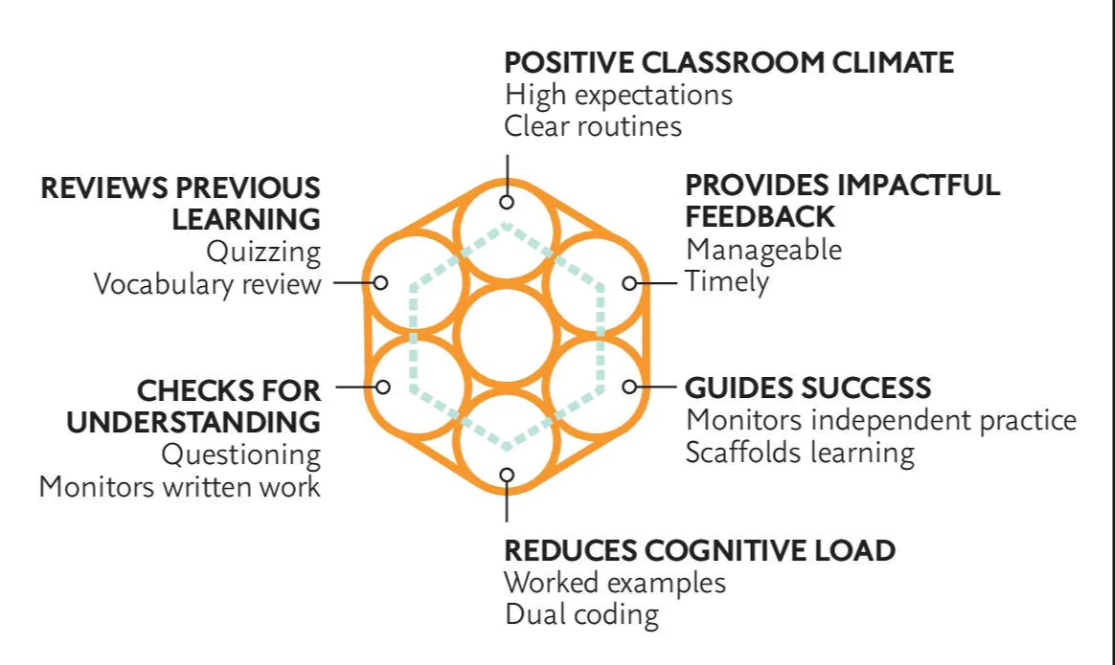 When I was looking at this, the first thing I thought of is "This is my PBL classroom."  However, I could tell there would have to be some discussion of the "reducing cognitive load" part.  All the other aspects, I believe you can find in some other blogpost of mine somewhere.  In a PBL classroom, the way that students get timely feedback is in so many ways (see my rubrics, journals, etc.).  The nightly homework is the scaffolding of learning and monitoring of independent practice – again when done well.  I won't go through every one of these, but would love your takes (in the comments below) on each of them.
So then, how can we talk about reducing cognitive load in PBL – where is lecture and worked problems that the teacher does?  I would argue that the cognitive load is reduced by the scaffolding of the problems in the curriculum.  In other words, by triggering students' prior knowledge the cognitive load is reduced in such a way that they are remembering something they have learned from the past, and then being asked to look at something new.  The "something new" goes through many phases of problems – concrete, multiple representations, all the way through to abstract – in order to slightly build up the cognitive load.  Again, this is all if it is done well and very deliberately with the idea of not to overload students' thinking but to help to build the schemas that are needed for constructing knowledge both individually and socially.
The problems are worked by the students, yes – I will give you that.  But it is the teacher's responsibility to make sure that the steps are correct, students get feedback on their thoughts and ideas, that on the board at the end of the discussion is a correct solution and so much more.  What this type of teaching does, in my view is both reduce cognitive load to a point, yet also allow students to gain agency and ownership of the material through their prior knowledge and experience.
Something else that Mr. Hendrick says in his article is:
"Getting students to a place where they can work independently is a hugely desired outcome, but perhaps not the best vehicle to get there. Providing worked examples and scaffolding in the short-term is a vital part of enabling students to succeed in the long-term."
And I would ask, what does students' success mean in this framework?  Some studies have shown that worked examples are beneficial in only some cases for student learning.  Others have shown that students that are taught with worked examples out-perform those who received individual instruction.  I could go on and on with the studies contradicting each other.  But what if they weren't in contradiction?  What if there was a way that they could work together – both reducing cognitive load and also giving students agency and voice in the classroom?  Allowing students the freedom to become independent problem solvers but also scaffolding the learning in such a way that their cognition was not overloaded?  Maybe I'm an optimist, but I do believe there is a way to do both.